Affordable gourmet specialty
meats
Testimonials
I Am So Pleased!
I just rec'd my shipment.....and it's still rock solid frozen...!!! I am so pleased as I live in the desert and it's over 100 degrees here at this time of year.....Everything looks amazing...i can't wait to try your product....thanks so much..!!
WendyAdelanto, CA
Exceptional Quality
"I received my order and I made some burgers today, the quality of the meat was exceptional! Expect me to be a regular customer. Thank You."
DominicLos Angeles, CA
Product and Service
"Without a doubt, Buffalo Gal has product and service. I knew I could depend on the product, and now I can depend on excellent service. Thanks. You have a loyal customer forever."
Olga Jacksonville, FL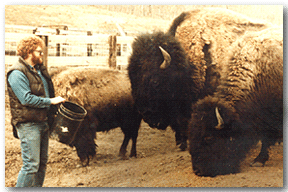 About

Us In 1976, Mike Fogel took the first step in raising buffalo.

He bought two buffalo yearlings, a bull and heifer, and from there the adventure began. Today, the Money Creek Buffalo Ranch is a thriving family business and a way of life. Although this is not the largest herd in the country, it is one of the finest quality herds you will find in America today. Years of experience, dedication, and attention go into the maintenance and care of these top quality animals.

Read More